Curated by AB
About the designer
Ashleigh's longstanding relationships with manufacturers allow her to source and curate beautifully made and extremely stylish non branded jewelry at incredible prices.  Ashleigh's philosophy about jewelry has always been "wear what you love, and love what you wear".  Curated by AB is a collection of some of her favorite pieces she finds completely delicious!
You Will Also Fall in Love With...
Customer Reviews
04/13/2021
Virginia B.

United States
Essential Jewelry Piece!
I LOVE the charm clip - I was a little concerned about using a clip for my precious charms but this little guy is beyond sturdy. I am wearing charms that I haven't worn in years because it used to be such a pain to swap them out...not anymore! She has the BEST STUFF, the packaging is GORGEOUS, and the customer service is amazing. 10/10.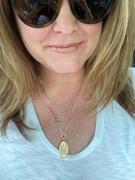 05/07/2021
Milestones by Ashleigh Bergman
I love this pick!!!! Let me know if I can help you with anything else Virginia!
03/11/2021
T.Snider

United States
This is the best Charm Holder ever!!
This is the prettiest charm holderI have ever seen and it is perfect for adding as many charms as you want . The diamonds are so sparkly that they make my charms light up, too. Really, very pretty! Milestones by Ashleigh Bergman offers the most stylish jewelry , shows you how to wear them*, and offers only the highest quality jewelry . This is my one and only go-to shop for all of my gifts and needs . I highly recommend Milestones by Ashleigh Bergman and give her a TEN STAR( HEART) RATING!! I know you will, too!
@milestones_by_ab