Curated by AB
About the designer
Ashleigh's longstanding relationships with manufacturers allow her to source and curate beautifully made and extremely stylish non branded jewelry at incredible prices.  Ashleigh's philosophy about jewelry has always been "wear what you love, and love what you wear".  Curated by AB is a collection of some of her favorite pieces she finds completely delicious!
Customer Reviews
Small diamond clip
Quite lovely , the clip closes nice a tight!
07/28/2021
Becky L.

United States
I'll buy another
This was my second purchase. Trying to decide on my next purchase.
04/30/2021
Thea E.

United States
Beautiful charm enhancer
I love my charm enhancer! It looks exactly like the picture. The clasp is very secure. I have played around with different charms and clasping it to different necklaces, some with links some without, and the clasp hasn't weakened at all. I feel the price (I received a discount for first time purchase) is fair and I would recommend this to other jewelry lovers.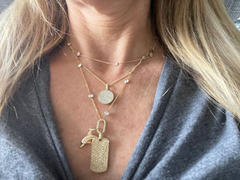 05/07/2021
Milestones by Ashleigh Bergman
04/02/2021
Anonymous

United States
Love
This charm clip is beautiful and well made. Exactly as I imagined it would be. I wish the diamonds went all the way around as it does flip around to the side that has no diamonds.
03/23/2021
Anonymous

United States
I love my diamond clip enhancer
Perfect but difficult to open. Otherwise I love it!
03/24/2021
Milestones by Ashleigh Bergman
So glad you love it! You want it to be hard to open so it doesn't come undone and you lose your charms. ;) It is better that way! Enjoy! ❌⭕️
@milestones_by_ab